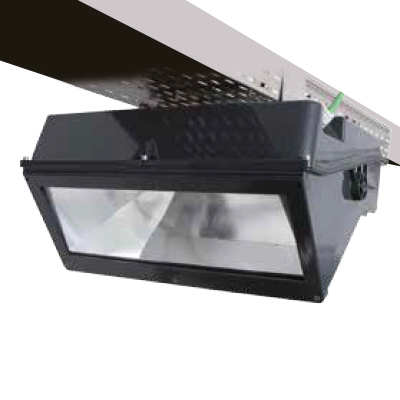 COMPLETE LED REINFORCEMENT solution for tunnel lighting
Eventually associated with the TunnelLed TITLIS for the Permanent solution
Visual Confort and Uniform lighting without glare
Safety
Autodimming or total light output management
120 000 hours
Running temperatures:
-20/+55°C from 85 to 105W models
-20/+60°C from 45 to 65W models
Made 100% in Italy and western of Europe
Years warranty
COUNTERBEAM OPTIC has been chosen counterbeam optics for its reinforced lighting solutions, meaning the maximum intensity of light emissions is aimed against the direction of traf c. Obstacles therefore appear as dark objects on a bright road surface and are highly visible, with very high negative contrast values. By eliminating the vertical and symmetrical components from the light emissions, the beam generates much higher luminance levels, for the same power, than different types of optics; in other words, the design lighting speci cations can be achieved with much lower power consumption. This translates directly into lower investment costs for materials and signi cant energy savings, and consequently an even faster return on investment. The TunnelLed Teseo performs this task with very high ef ciency: the counterbeam optics are designed to guarantee the exact luminance levels required by the standard, thus minimising energy consumption; careful design means light is provided only where needed, eliminating waste and drastically reducing glare. The total-re ection optics stand out immediately for their unique technological features and unrivalled visual comfort.
ELECTRICAL SPECIFICATIONS
Voltage
Frequency
Electrical safety class
Power supply efficienty
MECHANICAL FEATURES
Body
Paint
Glass
External screws
Total weight
Ingress protection
Impact resistance
Wind exposed surface
OPTICAL FEATURES
Total reflection patent
LED
Photobiological safety
ELECTRICAL SPECIFICATIONS
220 ÷ 240 V ac
50 - 60 Hz
Classe II
92,5%
MECHANICAL FEATURES
Die-cast aluminium EN 46100
Resistant to 1000 hours in salt spray
Tempered extra clear, 4-mm thick
A2 stainless steel
19 kg
IP 66
IK07 - 2j
0,174
OPTICAL FEATURES
1395290
CREE or PHILIPS LUMILEDS LUXEON M
(opticsA)
Exempt group
| Model | n. LED | LED flux lm@4000K | Power W |
| --- | --- | --- | --- |
| 50 watt | 20 | 4230 | 44 |
| 80 watt | 35 | 7400 | 77 |
| 110 watt | 50 | 10150 | 110 |
| 150 watt | 16 | 13892 | 139 |
| 175 watt | 20 | 17594 | 174 |
| 210 watt | 24 | 21114 | 205 |
| 285 watt | 24 | NA | 280 |
| 305 watt | 24 | NA | 306 |